HARRT at UCLA celebrated a milestone; 2016 marked our 30th year as a forum for the exchange of cutting-edge ideas and academic research affecting the practice of human resources.
HARRT Members are encouraged to join our exclusive LinkedIn Group. For information or an invite, email harrt@irle.ucla.edu
HARRT 2018 – A Year in Review
October 23, 2018 – Associate Symposium
Three exciting topics were presented by UCLA faculty Bob McCann and Janna Shadduck-Hernandez, Victor Narro, and attorney Kathleen Erskine of Cohen Williams LLP. Professor McCann  discussed the impact that effective communication can have on your organization and the implications for your personal leadership. They were able to help attendees develop the knowledge, perspective, and skills needed to lead their teams and produce tangible results. The goal was to understand and practice cross-cultural communications,  learning how to create a framework for leading a multicultural team to high performance.
2018 HARRT at UCLA Annual Retreat
The theme of our 2018 Retreat was: Human Resources Innovation: Now to Next. Building on previous topics of transformation, disruption, and change; this year we explored specific ways to strategically move our organizations into the future. Our speakers brought the latest thinking on approaching innovation with an entrepreneurial mindset, applying technology for organizational innovation, keeping the "human" in human resources with empathy and compassion, the changing CHRO profile, and the next frontier of employee experience.
Vacit Arat, CEO, HIA Technologies
Corinne Bendersky, Professor of Management and Organizations, UCLA Anderson School of Management
Ben Dewar, Partner, TrueSearch
Henrik Fisker, Chairman and CEO, Fisker Inc.
Martha Josephson, Senior Partner, Egon Zehnder
Terry Kramer, Professor of Decisions, Operations & Technology Management, UCLA Anderson School of Management; Faculty Director of UCLA Anderson's Easton Technology Management Center, Former Vodafone Group Executive, Former U. S. Ambassador
Amy Levoie, People Scientist, Glint
Paul Leonardi, Professor, Duca Family Endowed Chair, Technology Management; UC Santa Barbara
Mark Levy, Fmr CHRO, Airbnb, Head of  Employee Experience, Allbirds
Francis (Fran) Luisi, Partner, Head of Human Resources Practice, Odgers Berndtson
Kathy Mandato, Former VP Human Resources, Snapchat, Inc., HR Advisor
Arthur Mazor, Principal, Deloitte Consulting
Klaus Schauser, Chief Strategist and Founder, AppFolio
Stefanie M. Tignor, People Scientist, Humu
Jennifer Vena, Vice President, Bright Horizons
Pat Wadors, Chief Talent Officer, ServiceNow
Monica Worline, Faculty Affiliate, Center for Positive Organizations, University of Michigan; Research Scientist, Center for Compassion and Altruism, Stanford University; Founder and CEO of EnlivenWork, Author, Awakening Compassion at Work
Michael Yang, Managing Director, Comcast Ventures
May 22, 2018 – Creating a Magical Employee Experience!
"How do organizations do it?" Join insightful thought leaders from Willis Towers Watson and the Disney Institute to learn the latest insights to better understand and shape the employee experience. We will examine how technology and data analytics support continuous listening to directly impact employee engagement and commitment while re-defining "engagement ownership" in your organization.  Also, we will explore the Disney approach to talent management, leadership and culture that creates a nurturing environment and fosters Cast Member motivation and engagement.
Click Here for one of the research articles from the event
Additional research and the slide deck for the event can be accessed here.
April 25, 2018 – Day of Learning HARRT and WTW Recap
Reinventing Work: People. Technology. Time.
Today's realities are shaped by a growing digital revolution. Technologies are fusing, blurring lines between the physical, digital and biological worlds, and technological breakthroughs like artificial intelligence and robotics will continue to evolve.
These changes are dramatic compared to previous revolutions in that they are already disrupting almost every industry in every country and having a major impact on work and jobs. The result is a complex work environment characterized by significant job creation as well as job displacement, heightened labor productivity but also a widening skills gap.
The Future of Work is becoming an important topic for many organizations, both for its HR implications and its impact on overall business strategy. Is your company prepared?
On Wednesday, April 25th, David Rock, Michelle McKinney, Ravin Jesuthasan, and Professor Craig Fox joined HARRT at UCLA and Willis Towers Watson for a Day of Learning. This annual event offers new perspectives on the volatile marketplace and workforce challenges. Attendees are HARRT Senior Executive members and their teams. If you would like to become a member of HARRT at UCLA and attend next year's event, please contact us through this form. Materials from the event are available for members in the research section of the website.
March 14, 2018 – Round Table:
"

RESILIENCE: THE ESSENTIAL HR SKILL OF THE FUTURE FEATURING A SPECIAL CHRO PANEL

"
HARRT at UCLA with the RAND Corporation
With the rapidly changing workplace, new technology and multi-generational workforce to name a few, Human Resources needs to become more innovative and agile in the way services are delivered and programs are developed. How would you rate yourself on the resilience scale? Sandy Asch, thought leader and author will lead us in a discussion on personal skills and development. You will be given a self-assessment to identify personal development opportunities. You will also hear from a CHRO panel: Allison Elder, Vice President, Human Resources, RAND and David N. Heath, Fmr. Vice President, Global Human Resources, Panasonic Avionics Corporation who will share their insights about how they assess HR talent and the skills needed for future success in the field. The latest Bersin Report, HR Technology Disruptions 2018, will be used as the foundation for the conversation, and participants will be encouraged to consider these trends within their organization.
Click here for a preview from speaker Sandy Asch.
2017 3rd Annual T-Mobile UCLA Anderson MBA Case Competition
UCLA ANDERSON ECONOMIC FORECAST – December 2018
As the economy enters 2019 on a good (economic) note, there are changes ahead in financial markets. The Fed is raising rates, The ECB may raise rates as well. Dodd-Frank changes are in the winds; and there will be a new Congress. In California, there are trade wars and a new governor. The UCLA Anderson Forecast takes a look at equity and bond markets and the implications of these end-of-year changes in its release of the new forecast and its annual outlook for financial markets.
Better People Analytics
Paul Leonardi
Paul Leonardi's article published in the Harvard Business Review is available for all to read. Click Here
The challenge: "To bring the performance of people analytics up—and in line with the hype— companies need to do more than analyze data on demographic attributes."
We have charts and graphs to back us up. So f*** off." New hires in Google's people analytics department began receiving a laptop sticker with that slogan a few years ago, when the group probably felt it needed to defend its work. Back then people analytics—using statistical insights from employee data to make talent management decisions—was still a provocative idea with plenty of skeptics who feared it might lead companies to reduce individuals to numbers. HR collected data on workers, but the notion that it could be actively mined to understand and manage them was novel—and suspect.
Paul Leonardi is the Reece Duca Professor of Technology Management at UC Santa Barbara. He holds appointments in the Technology Management Program (TMP) and the Department of Communication. He has recently joined the TMP team and will be actively involved in the launch and oversight of the new Master's Degree in Technology Management and a new research center in the area of Technology, Innovation, and Strategic Change.
UCLA ANDERSON RESEARCH SPOTLIGHT
STUDY BY CORINNE BENDERSKY SHOWS STATUS CONFLICTS CAN HURT TASK GROUP PERFORMANCE
Impact can be moderated by group leaders and participants
Corinne Bendersky, Assistant Professor of Human Resources and Organizational Behavior, says it's essential for members of a task group to have a sense of their status within the group. "It's like many social shortcuts or heuristics we use to navigate our complex social world," she says. "Status is important in establishing a hierarchy so it's easier to make and implement decisions. It can be very functional."
But in a recent paper called, "Status Conflict in Groups," Bendersky and co-author Nicholas Hays show that task groups can also be derailed as members compete for higher status within a social hierarchy. The findings come from a study of student teams.
3 Tech Hacks for Happy, Healthy, Productive Employees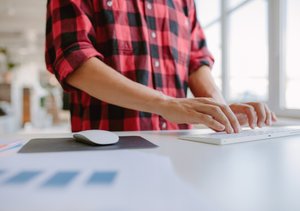 Written by: Saagar Govil
Ask leaders of companies big and small about the goals for their businesses, and increased productivity will inevitably be in the mix.
And it is no wonder businesses are so focused on productivity. Employees worldwide work an average of 45 hours per week, according to a survey from Microsoft, but they report that 17 of those hours are unproductive. Clearly, even incremental improvements can significantly impact business success. Beyond that, enhanced productivity can drive a happier and healthier work culture; 93 percent of workers cite productivity as key to achieving personal happiness. Read More